A beautifully simple system for troubleshooting and managing your clients
Support end users in seconds

FIND THE RIGHT
COMPUTER
FAST
The first step for providing fast support is finding the end user's computer. Nothing could be simpler than writing the users first name, surname or user account to locate the last used computer(s). Such easy access eliminates all those routine questions to find the correct computer, saving you time on every call.
Automatic error detection & correction
ClientIQ is pre-configured with detection of hundreds of known errors which are evaluated every time you connect to a computer. ClientIQ even have the ability to correct most of these errors automatically for you.
And as if that's not enough, the experts in your organization can also automate known solutions for unique errors themselves by using our built-in easy-to-use framework. Once there is a solution to a particular error, it's accessible to everyone in the enterprise.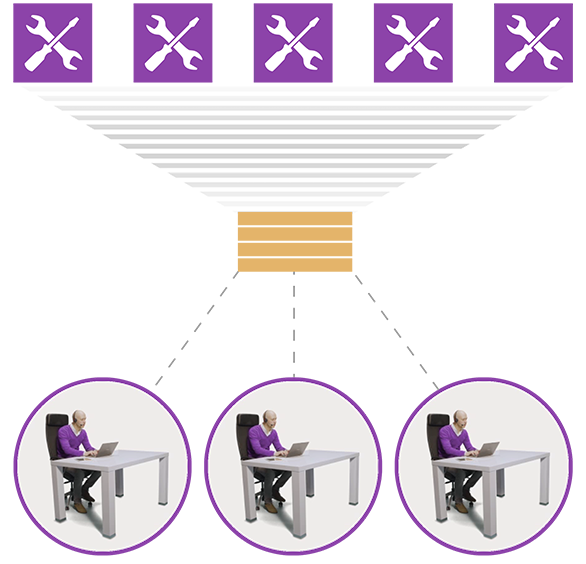 CENTRALIZED TOOLS AND SIMPLE USE
By organizing all support tools in one place and managing them in ClientIQ, you can ensure that everyone in your organization will have a consistent experience. This ensures that no time is wasted looking for tools, links or information. As a bonus, all tools started by ClientIQ will inherit the same security rights that are used running ClientIQ, removing the need to input your credentials over and over again. We also support passing information gathered by ClientIQ to external tools. This makes it possible for ClientIQ to start a remote session to a computer without typing the computer name again or filling in a web form automatically for you.
An advanced GUI with a unique dashboard
The user interface provided by ClientIQ is highly advanced and accommodates all types of problem-solving. The unique dashboard is one of our most popular features. Information is retrieved from multiple sources and ClientIQ offers a clean overview for trouble- shooting and quick resolution of errors and events. The dash- board can also be customized for the specific needs of individual end-users.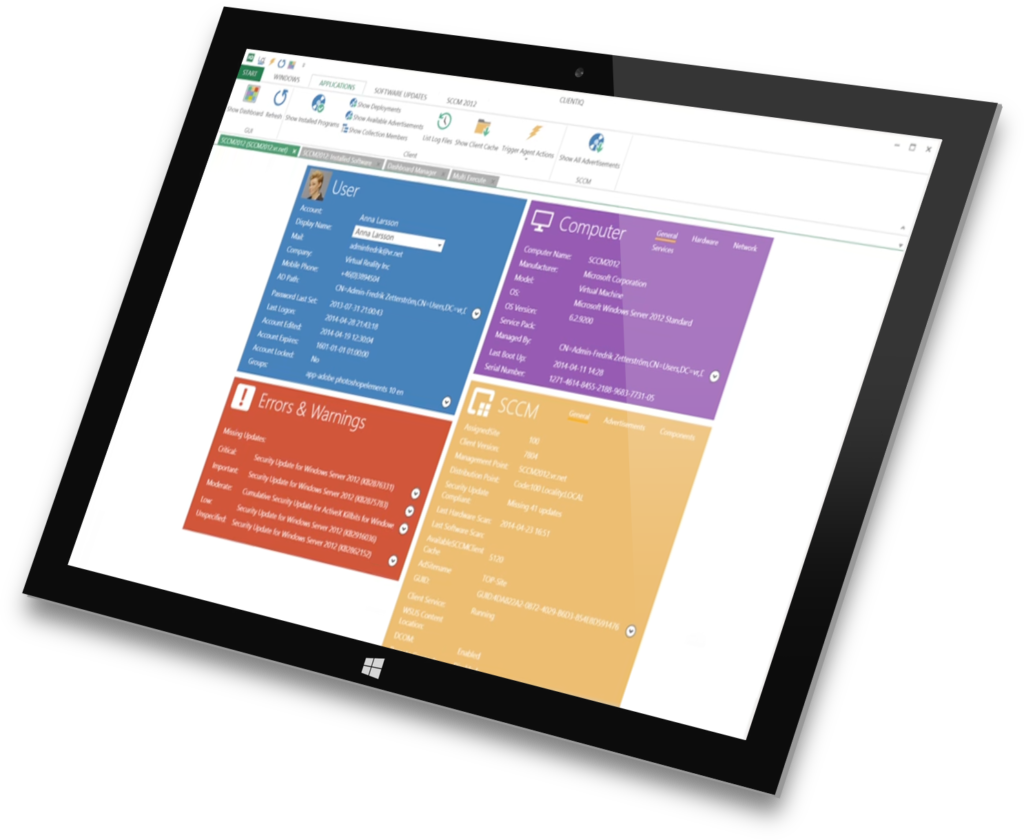 SIMPLE YET POWERFUL
Our vision is to create the best user experience for supporting Windows clients, not only for experts but for beginners as well. Based on usability studies and the latest technology advancements like data prefetching, multithreading and 3D rendered GUI we have come a long way to provide a simple and user-friendly interface, packed with advanced features.
FLEXIBLE DASHBOARD
ClientIQ gives you a complete overview of the user you are supporting including the user's computer by retrieving all useful information, nicely formatted, grouped and displayed in the dashboard. If the out of the box pre-configured information is not to your liking you can remove, add or rearrange the information just the way you want it.
CLIENTIQ RELIEVES YOU FROM ROUTINE TASKS
Too much time is spent on troubleshooting, especially without the necessary tools. ClientIQ contains many advanced features helping the support organization manage and troubleshoot application distribution, software updates, generic Windows errors and more.
NO MORE CREATING TICKETS
ClientIQ can create incidents and tickets for you, reusing all the information that is already gathered. No more manually adding information like the users name, telephone number or hardware related information. When ClientIQ creates the ticket for you we can even add priority, impact and assign it to a team.